We're David Parker and Kim Paternoster. David & I were married in January 2015 after meeting on Match.com. I (Kim) searched for "sailor" on that site, and amidst all the people I already knew, there was a guy that I didn't already know. We have a lot in common other than sailing; we both studied music in college in Boston, we both love cooking, good food and wine, we both love traveling, and neither of us had nor wanted kids. Add sailing to that mix, and it turns out to be the perfect match.
We were both sailors before we met. David grew up sailing (his entire family knows how to sail) and his parents were both sailors. I started sailing in 2003 having bought my first boat – a Catalina 22, and a short few months later buying my second boat, "Tipsy Gypsy", a Catalina 25. I did not know much about sailing when I bought either boat.
I learned to sail on Lake Travis in Austin TX, and after a few years there outgrew the lake and moved back out to the Bay Area. David started sailing in West Texas on a Sunfish when he was a wee tyke, after his dad pushed him out in the middle of a lake and decided David would eventually figure it out.  He sailed his entire childhood, and during his time in Boston, he was a deckhand on "When and If", the famous schooner designed by John Alden for General Patton for "when" and "if" Patton returned. David's brother Mike was the skipper on the schooner at the time (I'm telling you, this sailing thing runs deep in the Parker family).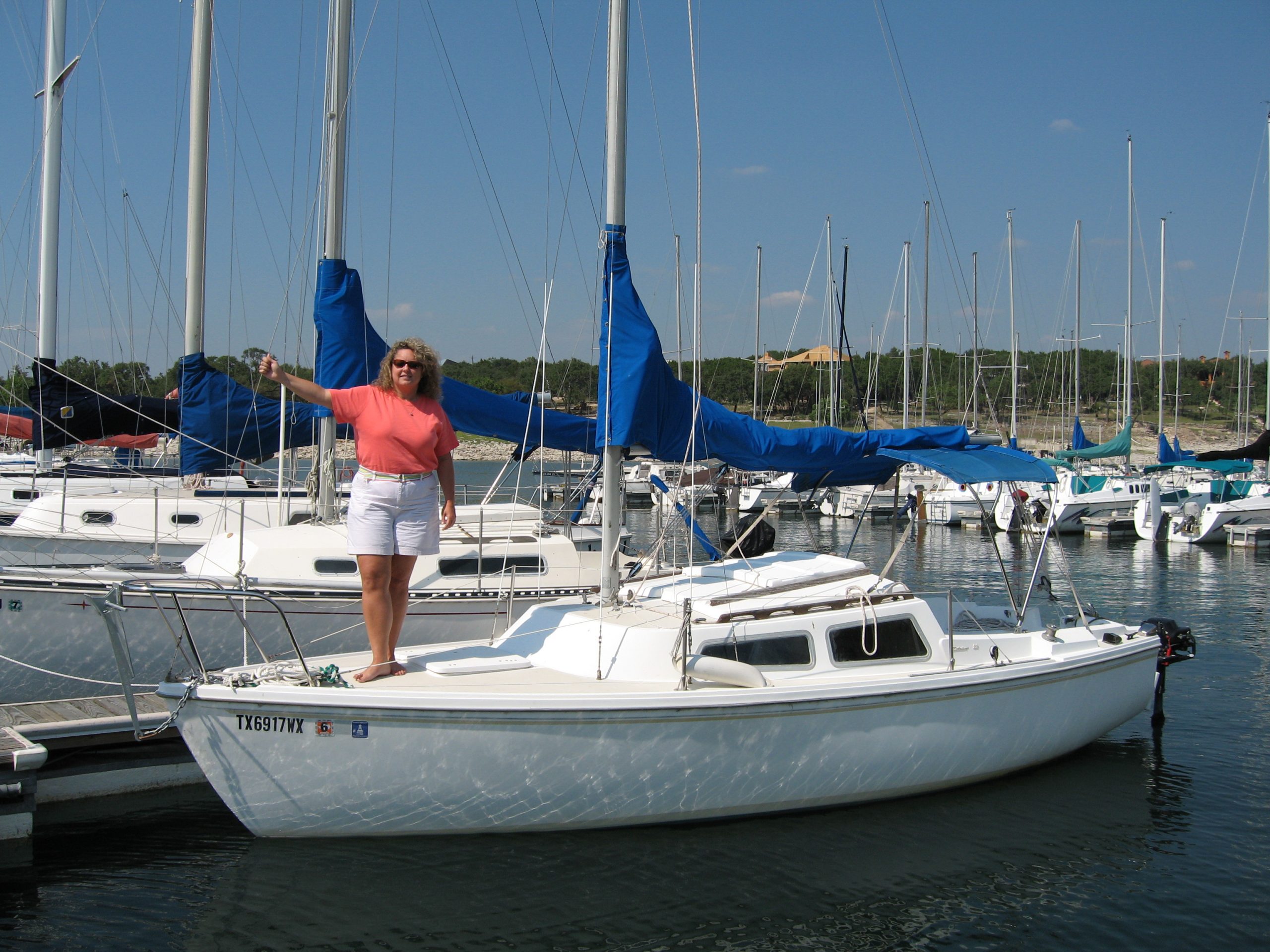 2003 at Dodd Street Marina on Lake Travis, TX. This is my first boat, a Catalina 22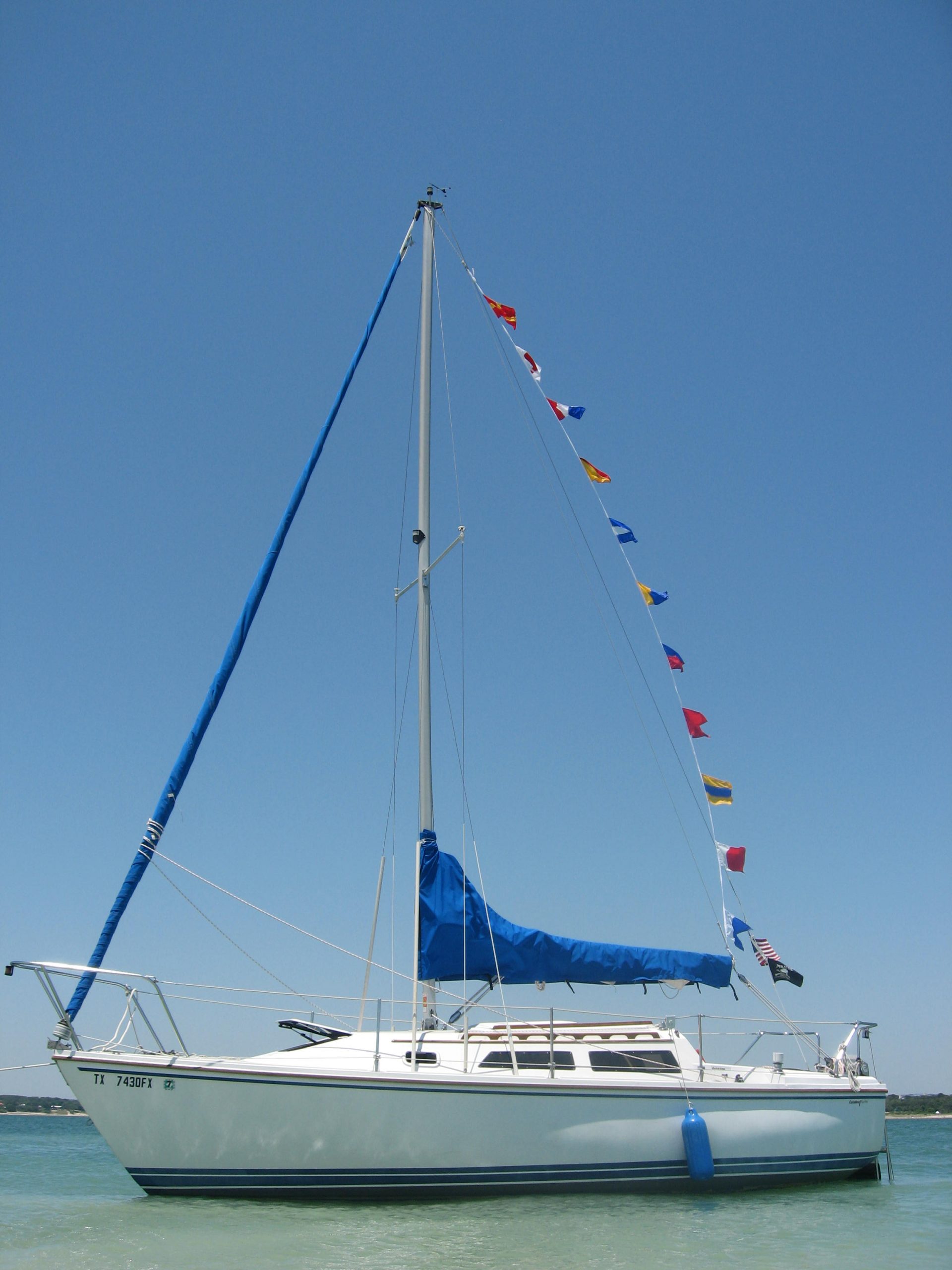 "Tipsy Gypsy", my 1985 Catalina 25. 2004-2008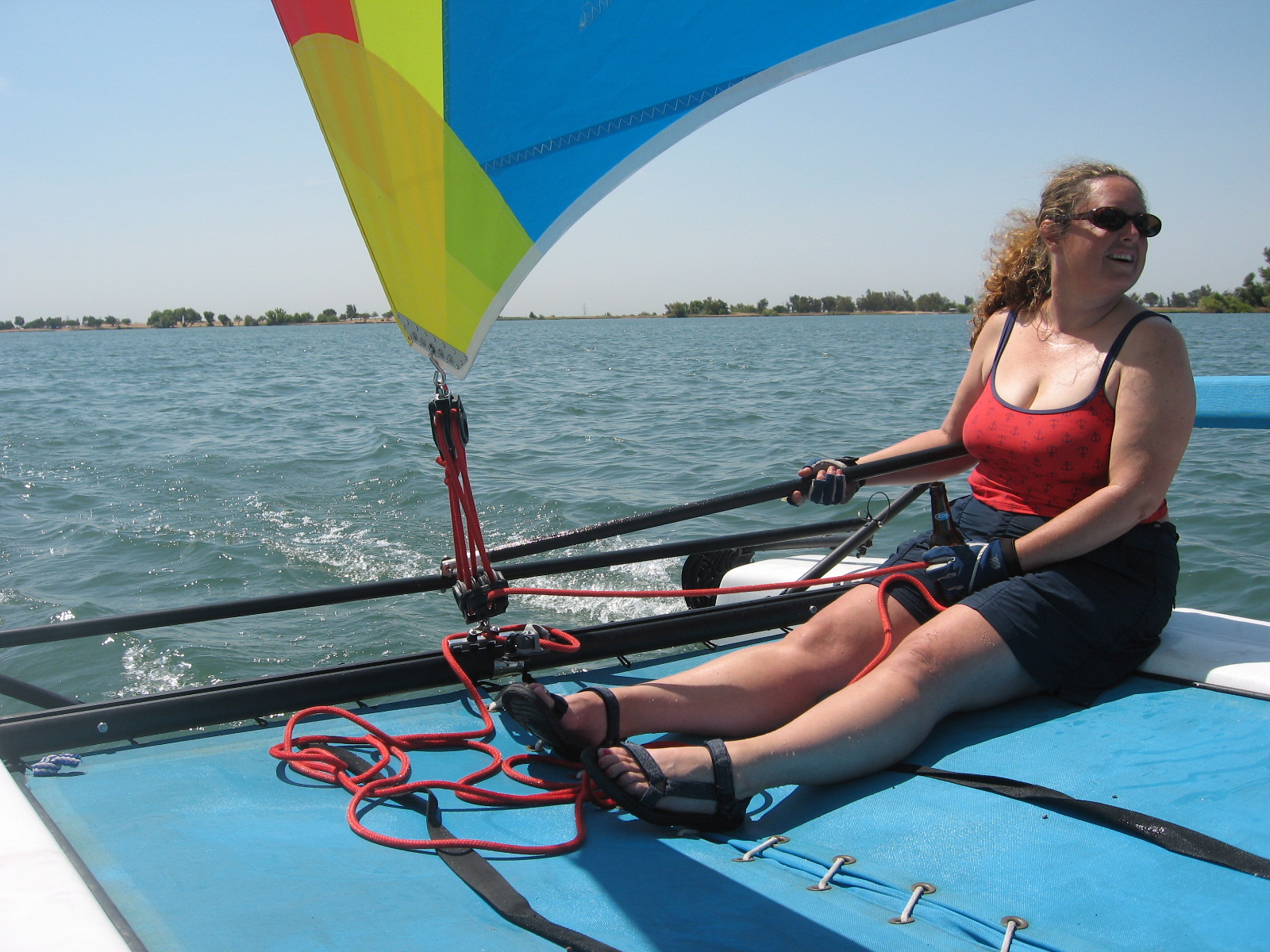 Sailing my Hobie Getaway 17 in 2010
In 2012/13, I had the experience of a lifetime as a project manager for one of the youth America's Cup teams in San Francisco. During a training session where the team capsized an AC45, I happened to be at the helm of the chase boat (Protector). Between my time owning and learning to upright a Hobie Getaway 17 and the coaching of an America's Cup chase boat driver, I was able to help upright this AC45. There are people around that say I'm the only woman who's ever righted an AC45 (this is probably true actually). That year also gave me the experience of close quarter maneuvering a boat, which translated to some really great driving skills on a sailboat.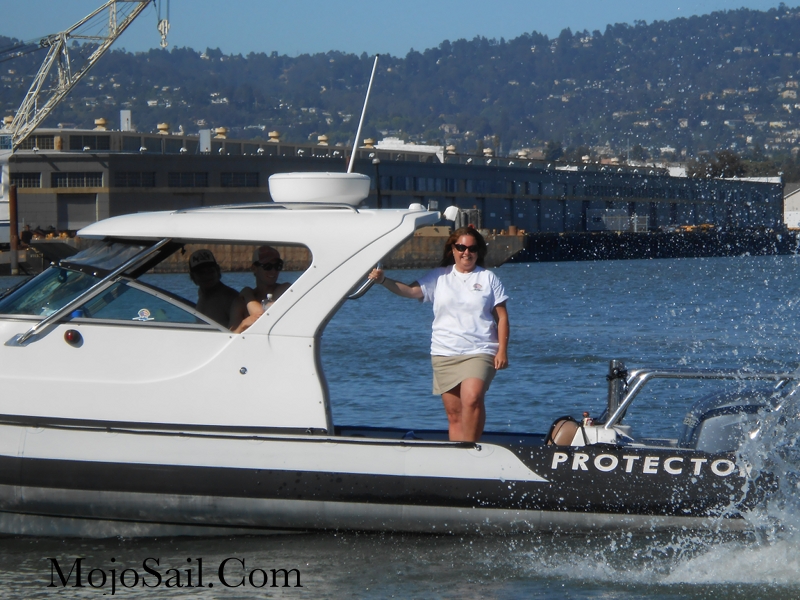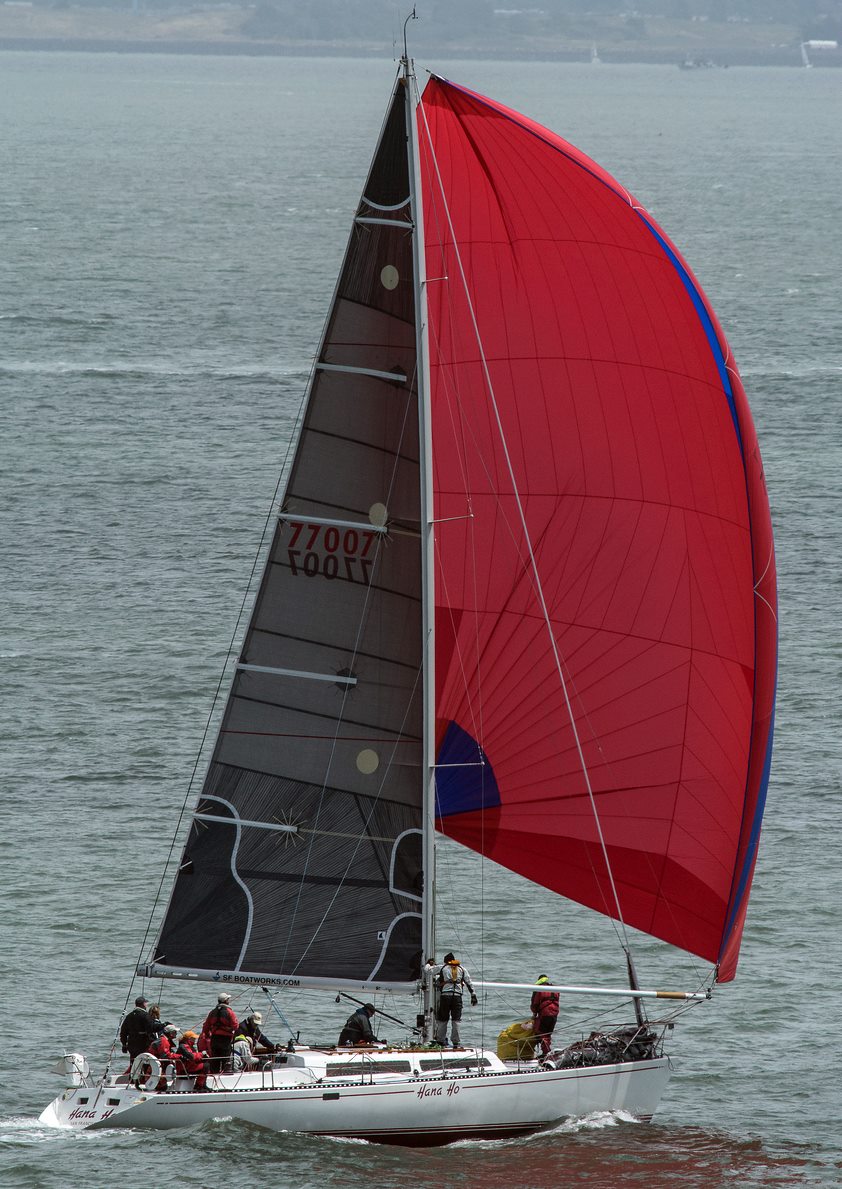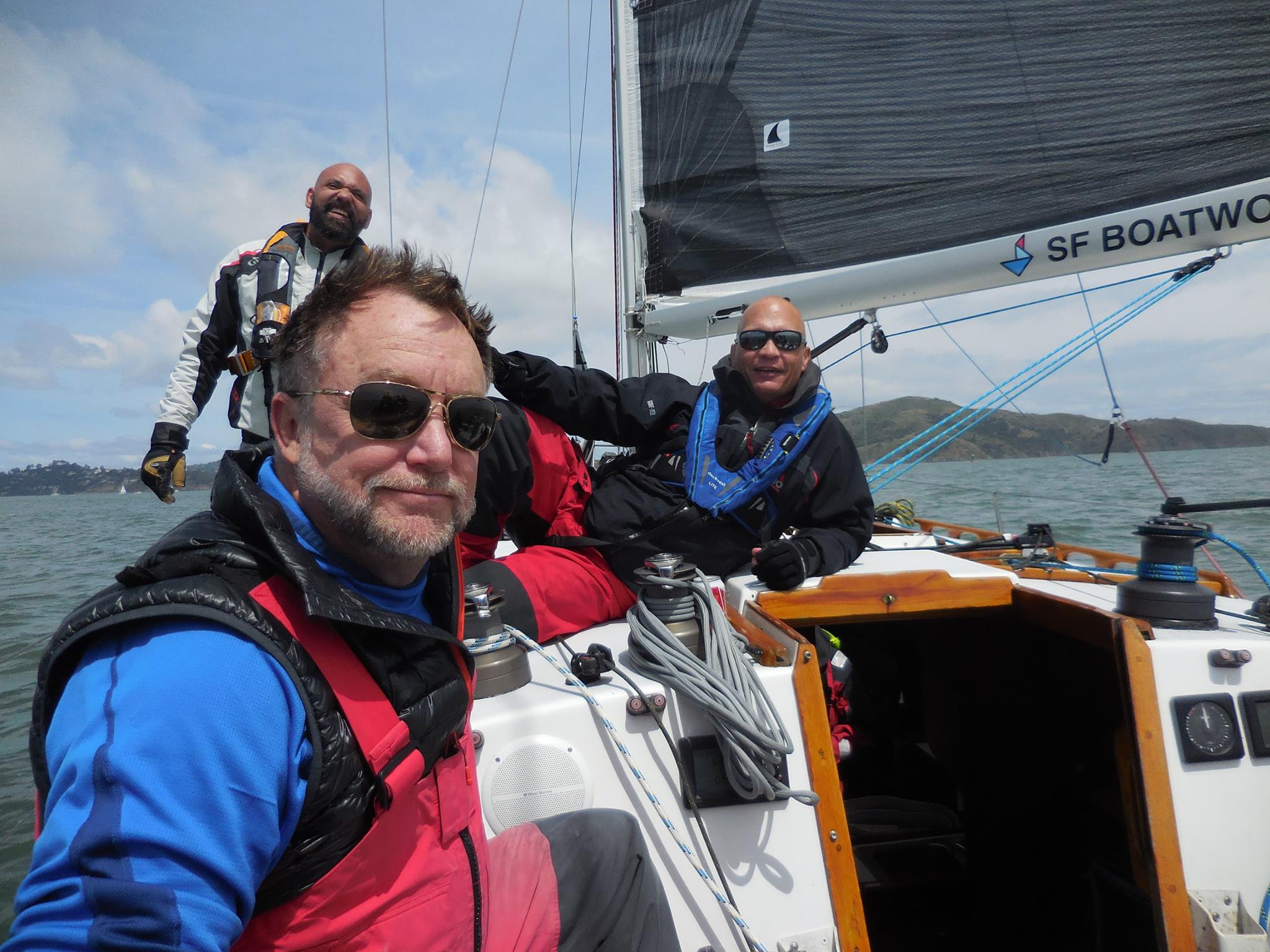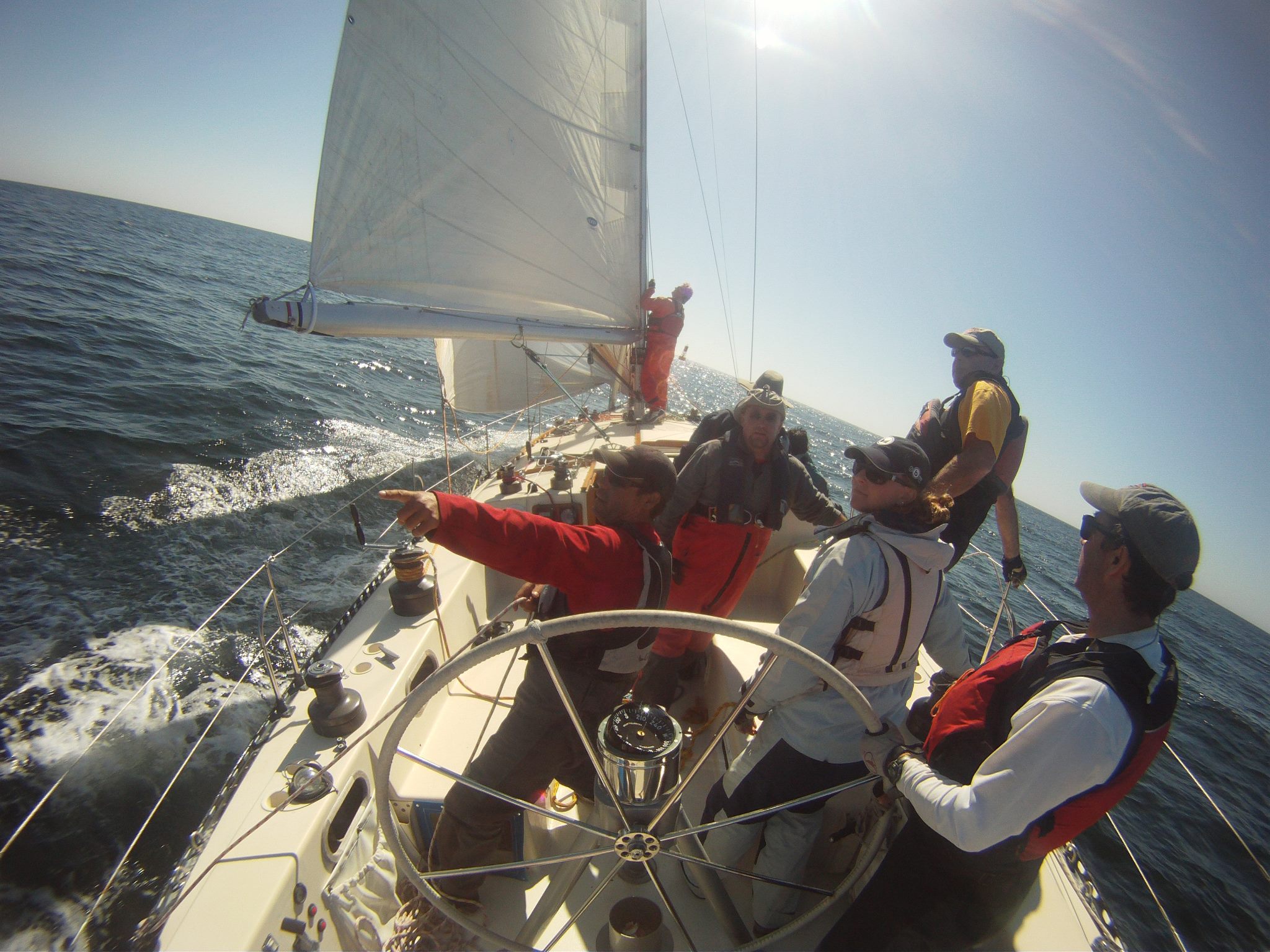 David has raced for over 25 years in the San Francisco Bay Area, usually as a main trimmer on a variety of sailboats. He's spent most of time on Express 37s and Santa Cruz 50s, winning the Rolex Big Boat Series in his division multiple times as well as a two podium finishes in the Pacific Cup. He's crossed the Pacific Ocean 7 times (back and forth and back and forth).
We'd been married over 6 years before I realized David had over 25,000 ocean miles under his belt. I decided after that he could be the captain and I wouldn't argue with him about how sailing really works anymore. HA!
Ernie Scuppers Parkernoster
Ernie Scuppers Parkernoster was our beloved crew member and West Highland White Terrier who we adopted when he was about 7 years old. Ernie left us on November 11, 2022 (Armistice Day) when the cancer he had been diagnosed with in 2020 overtook his little brain and caused him a lot of pain.
Ernie was a great little sailor, having done many Bay crossings with us as well as a little bit of ocean sailing "out the gate". We found Ernie at the Berkeley Animal Shelter after he'd been wandering the streets of Berkeley homeless. We adopted him on January 20, 2016. Ernie was named after Kim's grandfather, Ernie Thompson, who lived to be 99 years old and was a World War 2 US Navy sailor.
Ernie was quite the Bay Area sailing icon with a lot of worldwide fans. He was quoted in the Bay Area magazine "Latitude 38", and he closely followed the Bay Area racing scene.
In July 2020, Ernie was diagnosed with an aggressive form of jaw cancer and had been given a prognosis of "won't make it to Christmas".
We both love dogs, especially little white terrier dogs. And we miss Ernie horribly. He's still with us (at least a lot of his hair is).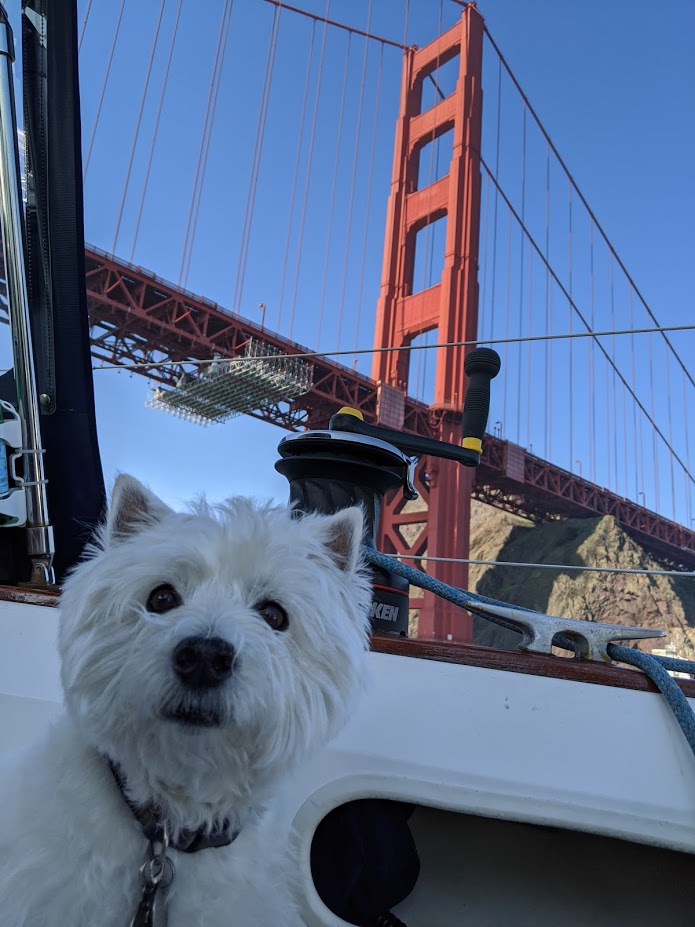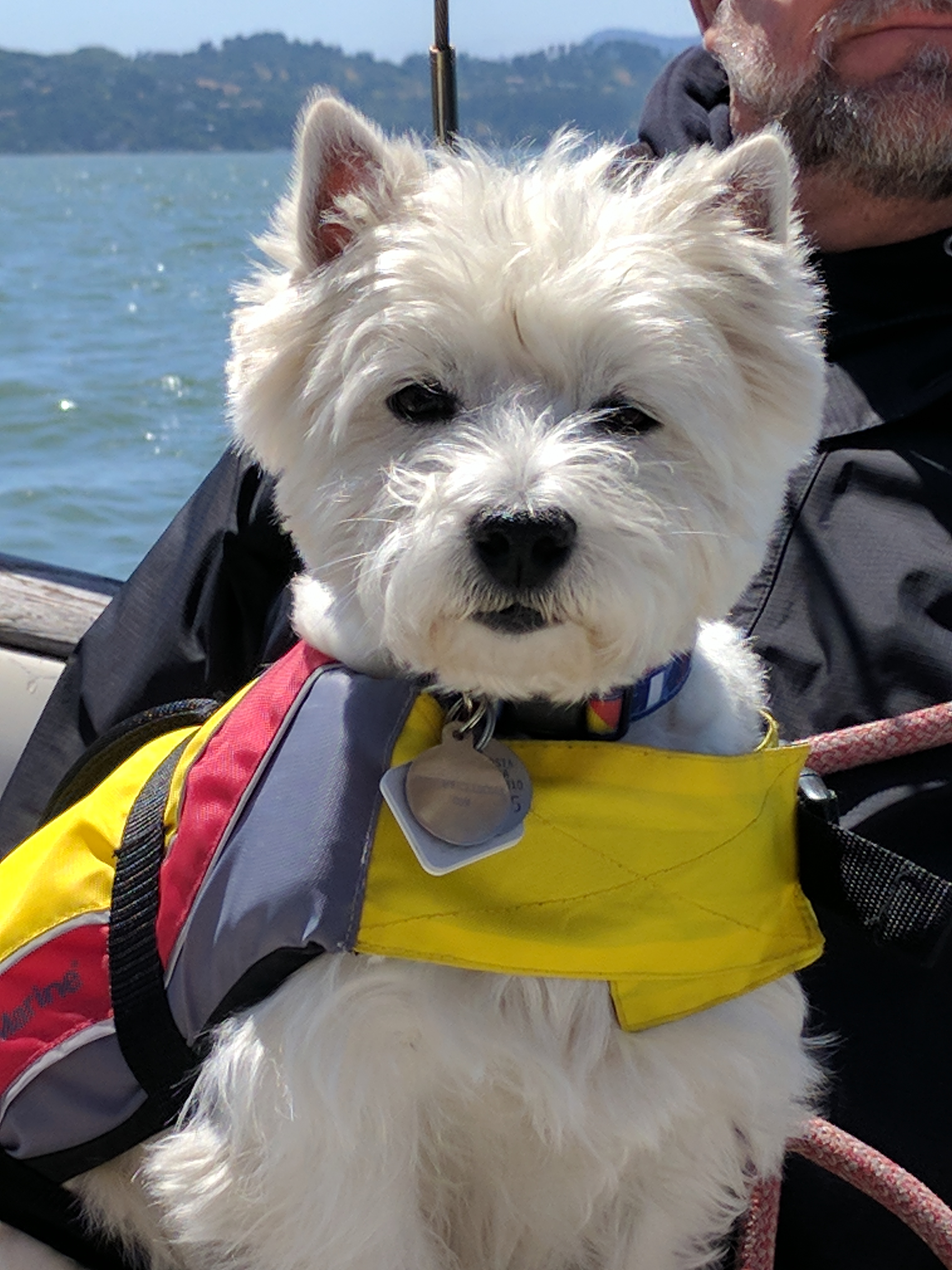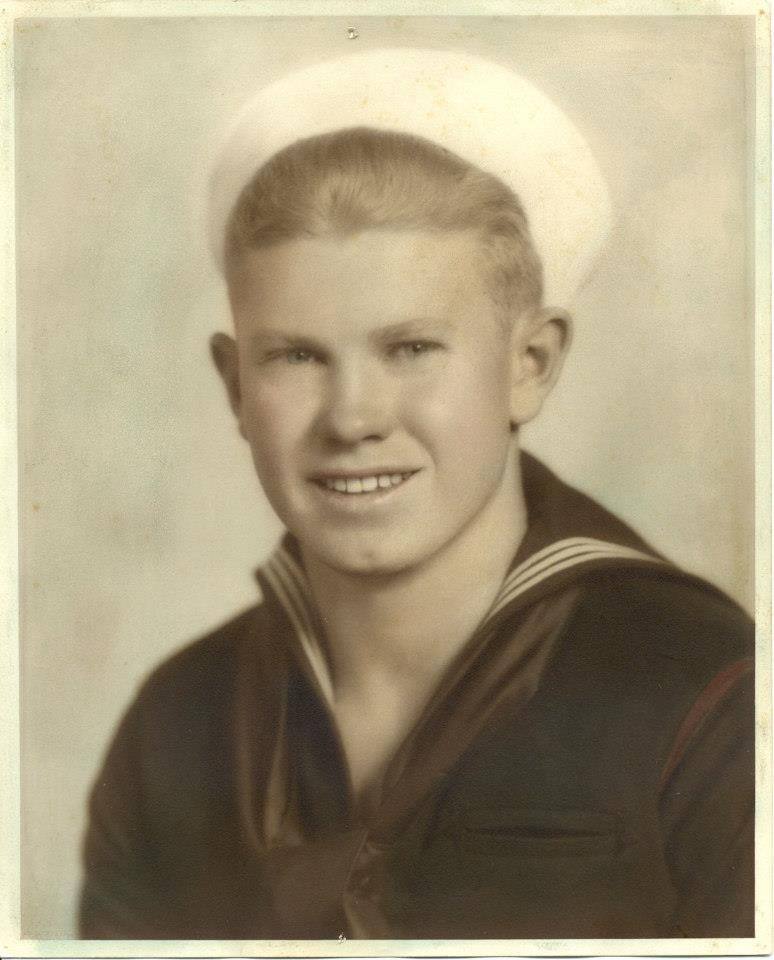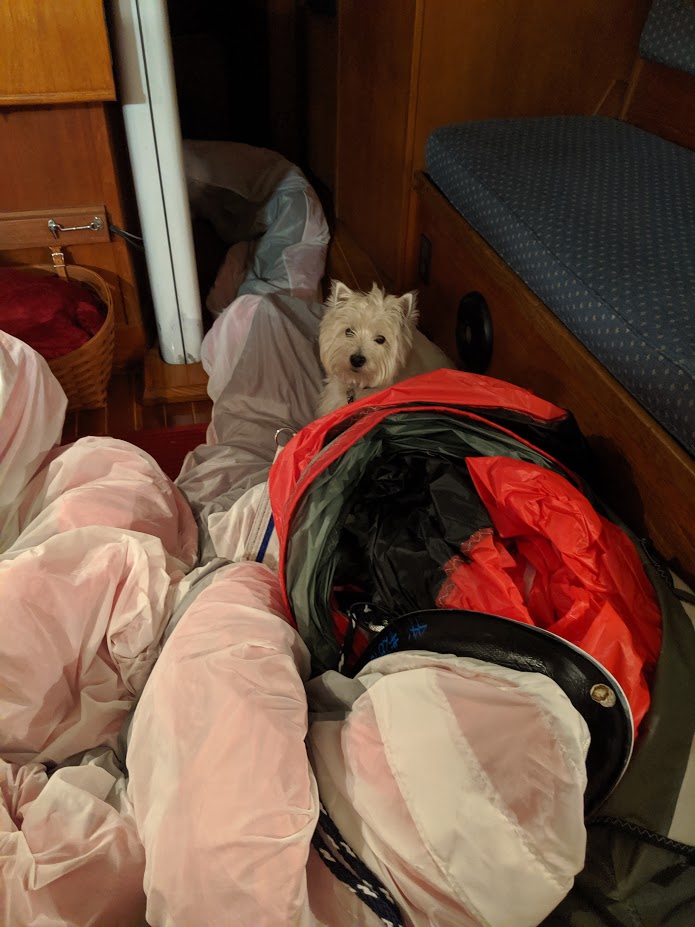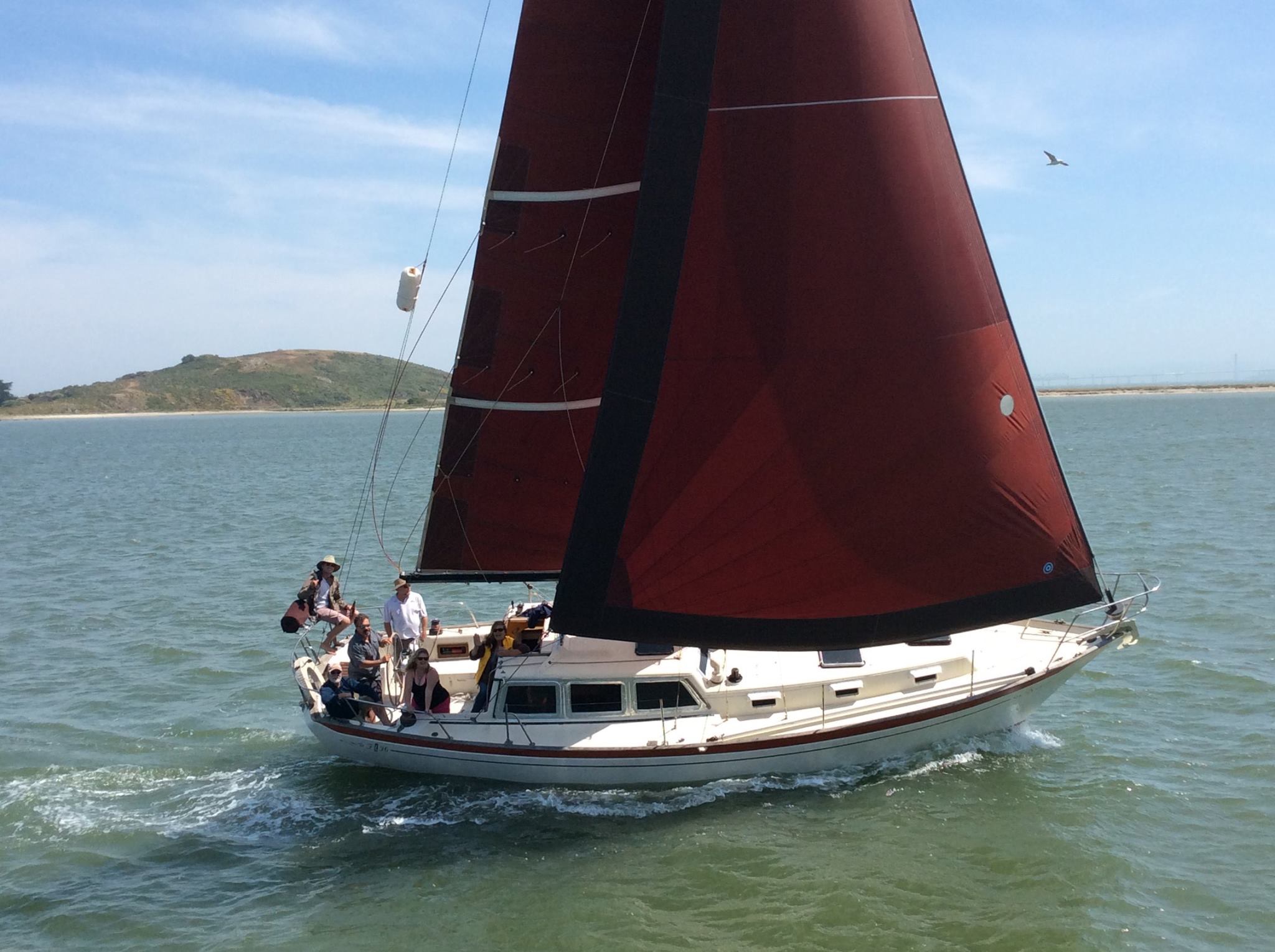 David owned the original Prudence (had been "Mabuhay") for 6+ years when we met, a 1978 Islander Freeport 36. He had intended on living on this boat, but she ended up being more of a project than he expected. Regardless, David and I went to work together on her, making her organized and capable of sailing, and spent many wonderful days sailing with our friends on her. It became time to sell her when we discovered the next leak (in a serious of all kinds of issues) coming out of the portholes in the V berth. That project broke the straw, and we decided to get a nicer boat that needed less work. 
We had gone sailing the summer of 2018 on the coast of Maine with Mike (David's brother) and his wife Amanda on Amanda's dad's Sabre 38 MKII. Not only was the sailing trip amazing in Maine, but we fell in love with the Sabre quality and craftsmanship. That led to us wanting the next boat to be a Sabre.
In late 2018, we found "Austral", a 1987 Sabre 36, in Seattle. She didn't leak (this was a big plus). So, we bought her and shipped her to the Bay Area. She was truly a joy for us, because we could finally maintain and upgrade a boat versus chasing every leak and problem constantly. We didn't have her for very long, and did too many upgrades to her (we really thought we'd have her a lot longer). Life changed though, and we found ourselves in Port Townsend Washington without a slip for our boat that we'd left down in Richmond California.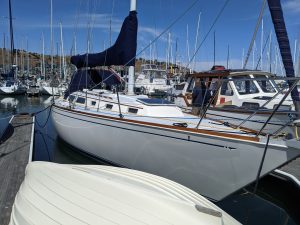 We also renamed her "Prudence" after going through the proper channels, pouring vast amounts of good champagne into the bay and having a proper party with our friends. She's still at Richmond Yacht Club after having been bought by friends, but renamed "Syncopation".
Prudence ("PruNuNu" or "Pru402")
We now own a 1998 Sabre 402 named… drum roll please… "Prudence" (formerly named "Blow'n Away"). The renaming party for her was outstanding, and all our closest friends came for the awesome champagne and street tacos.
THIS boat is our cruising boat, and thus the reason for the Prudence blog
.
Looking back over the 3 Prudences, it's amazing to both of us that we ended up here. We're so proud of what we've accomplished, just for setting our minds to it and working towards the same goal. Basically, we rock.
Compagnon (Our Home in the Netherlands)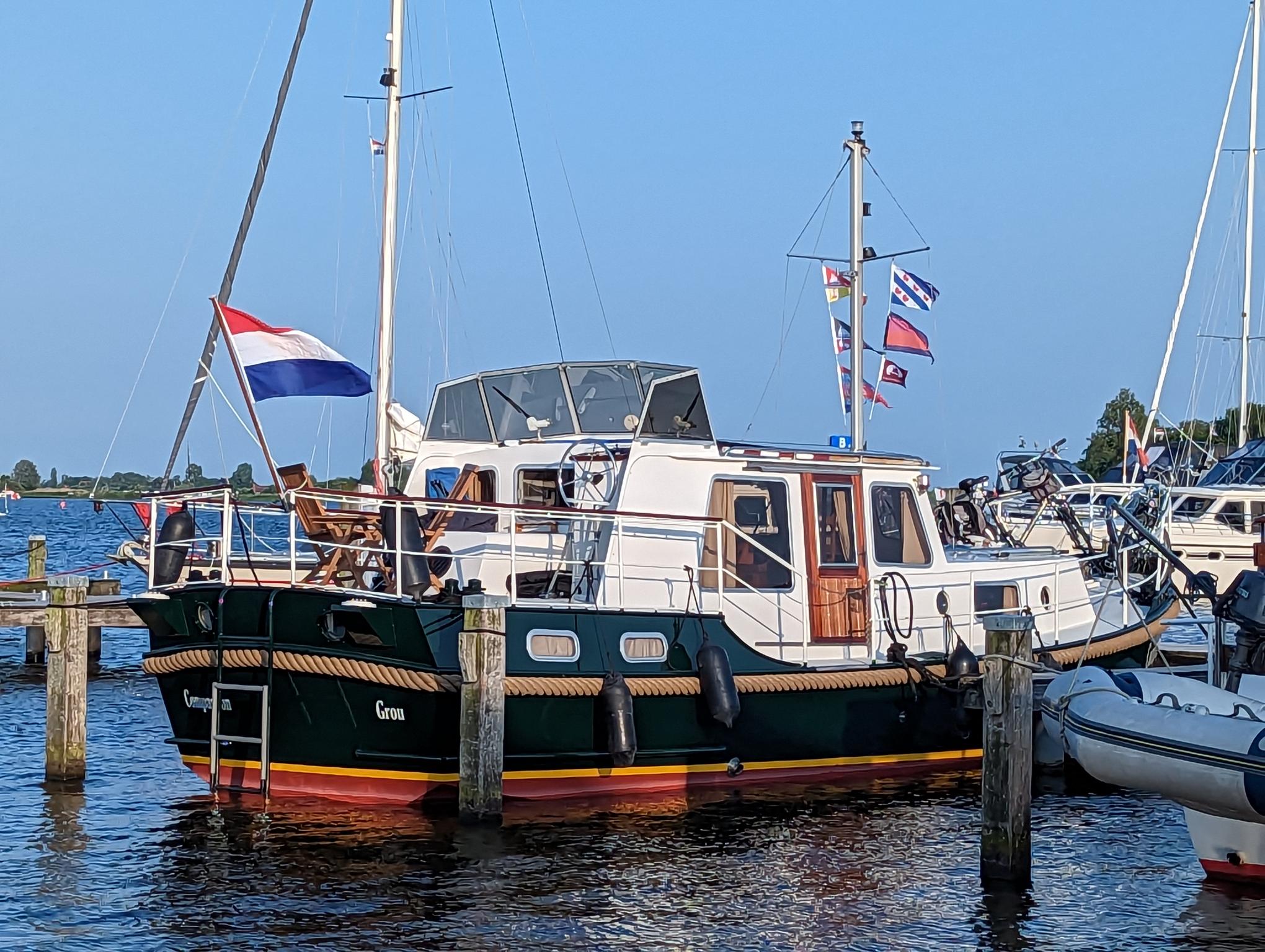 In mid 2022, we bought our 1975 Dutch steel canal cruiser from our friends, Robin and Mike. We had cruised on this boat with them 2 summers, so we already knew the boat (or so we thought) before we bought it. We stay 3 months every summer on her in Europe, and for a couple of summers in Friesland cruising the canals. Eventually we plan on cruising down into Belgium, France, Luxembourg and Germany.