Made you look. Haha! No, we did not adopt another Westie. We're enjoying traveling, and let's face it – after Ernie, it's hard to replace that incredible dog.
When we were in Workum, we were parked across the dock from a couple from Aalphen aan den Rijn who were also cruising in their 10+m boat "Amor". The next morning we saw a beautiful Westie girl out of the windows of our boat, and immediately fell in love with her. She started walking towards our boat, and next thing you know we were both hanging out the side door calling her over. She was the crew dog from "Amor", and we soon learned her name was Kyra. Kyra seemed to take a liking to us also (it helped that her mom gave us a treat to give her).
We were gearing up to leave Workum, so we had to say goodbye to Kyra and her owners, and we turned and head back up to Sneek. A couple of days later, we were walking down the street in Sneek next to the boats, and we see "Amor" parked a few boats from ours. We stop to chat with the owners (though it was really to get another Kyra snuggle).
We Made Friends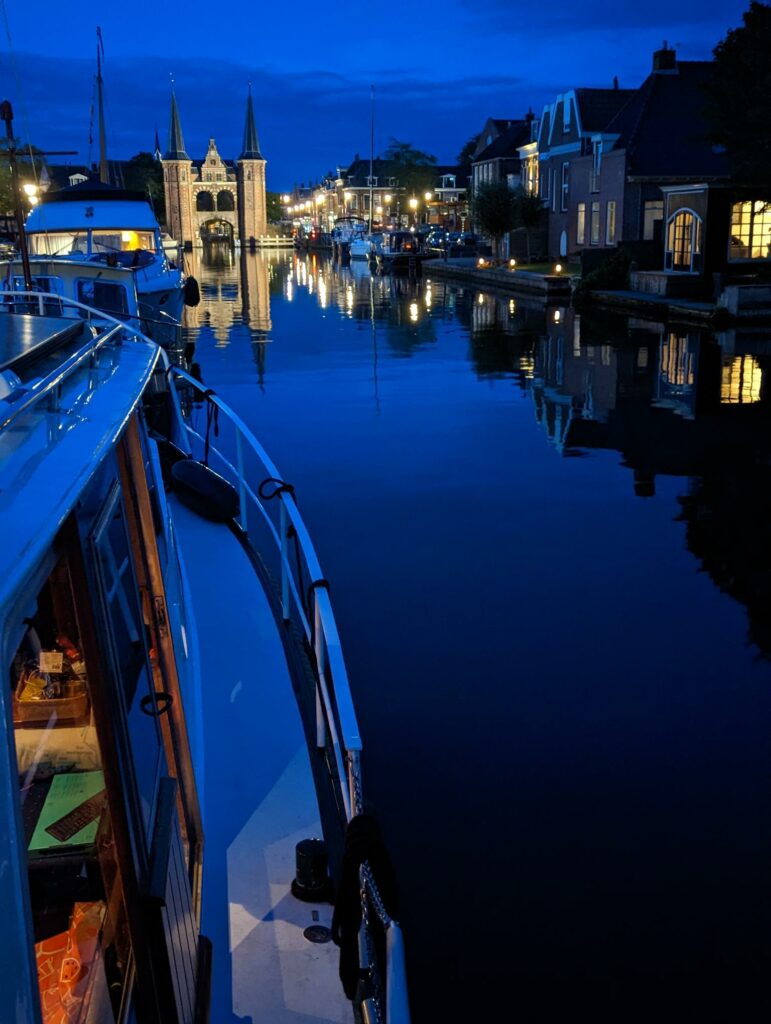 We soon found out that Jos and Anja were Kyra's parents' names, and we enjoyed chatting with them. We told them we were on our way to see Oppenheimer in Sneek. We almost never attend movies in America. David and I are uncomfortable in movie theaters in general, but a small local theater in a town of 12k people seemed like the right place to see this newly released flick. A few things about movies in the Netherlands:
Yes, Oppenheimer was in English.
Yes, it had Dutch subtitles.
Yes, at the Sneek theater they have beer and wine at the snack bar, along with 30 pound boxes of Junior Mints.
Yes, they had an intermission at the 1.5 hour mark. Suddenly, the movie went dark, the lights came on, the screen said "Pauze", and everyone stood up and walked out. It took us a couple seconds to figure out what was going on. With a movie that is 3.5 hours, that intermission helped get us to the end with enough energy to spare. My old brain thought that the movie reel had fried, and we were going to have to call it an evening. (I forget sometimes we are living in the digital age.)
The next day, we saw Jos and Anja again, and Jos asked us how long we were staying in Sneek. We originally had planned to … well, we didn't really have plans to do anything. We didn't know what we were going to do, and the reason he asked is that they wanted to see Oppenheimer that evening and wanted to know if we wanted to dog-sit Kyra. The answer was a resounding…
OF COURSE WE WILL SPEND AN EVENING WITH A WESTIE!!!
We had our second dog visitor that evening on Compagnon. And we LOVE Kyra… (more about that in the next blog… we cruised a bit with them, and Kyra got to the point where she recognized us and loved hanging out in David's lap.)
So… yes, I guess we did kind of "adopt" a Westie in the Netherlands!