We eventually had to leave the beautiful Kyra and head towards Dokkum. We had only 3 more weeks to ourselves before Pam and Bryan arrive, and we had spent a good part of our summer cruising around Southwest (Sud-West) Friesland. There's a few cities in the north that are good visits also, and 4 of the 11 fountains are up there. We chose to spend a couple of days in Leeuwarden (the capital city of Friesland) and then on to Dokkum.
Leeuwarden is a nice cruise north from Grou, though our cruising app led us down a couple of dead ends. One of the funnier ones is when we were tied up waiting for a drawbridge to come up, and the bridgekeeper said over the loudspeaker that the bridge was closed in Dutch. I asked, "how do we get to Leeuwarden then?" And he said, "uh, you just drive there." OK. Got it.
The Road in the Sky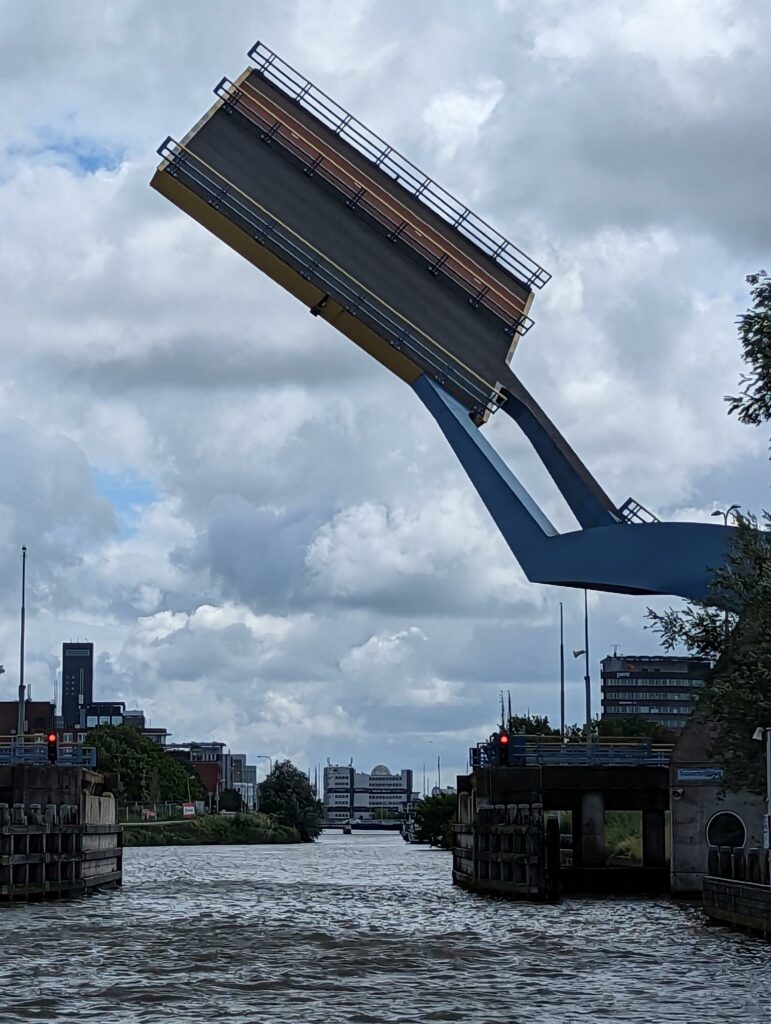 To get to Leeuwarden, you drive under the lifted Slauerhoff Bridge ("Slauerhoffbrug"). This is quite a spectacle if you can catch it. It is a 15'x15' piece of road that gets lifted diagonally over the road. The bridge is painted in yellow and blue, which represents Leeuwarden's flag. This bridge is often listed in articles about interesting architecture in the world.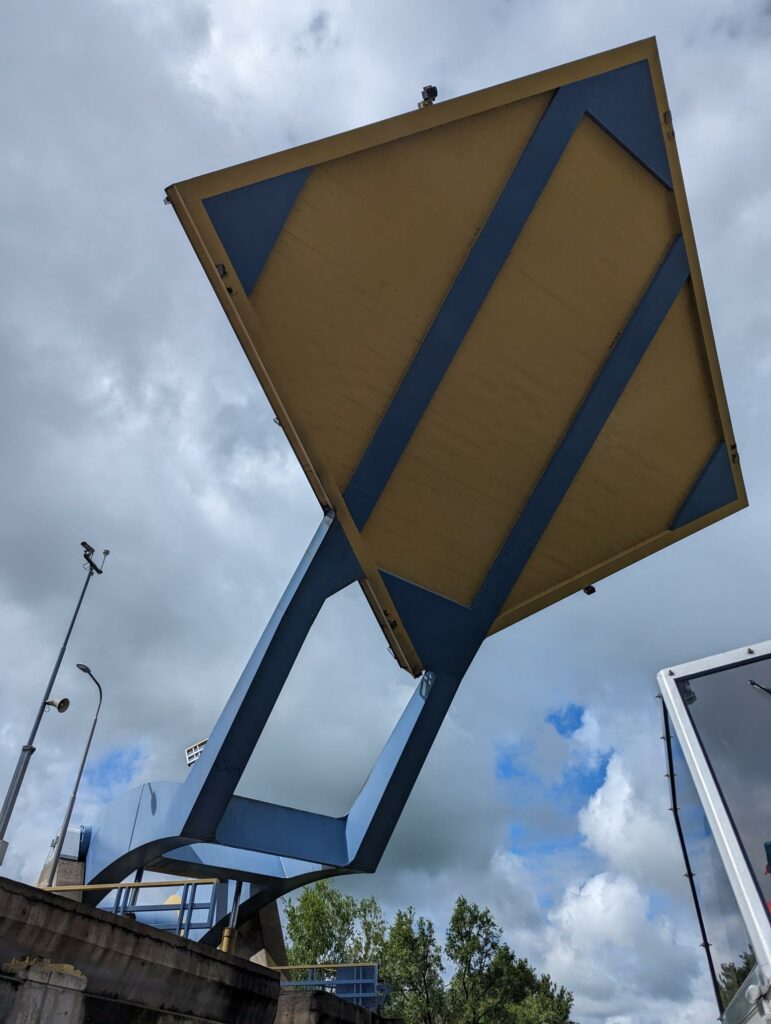 Parked Under the Willow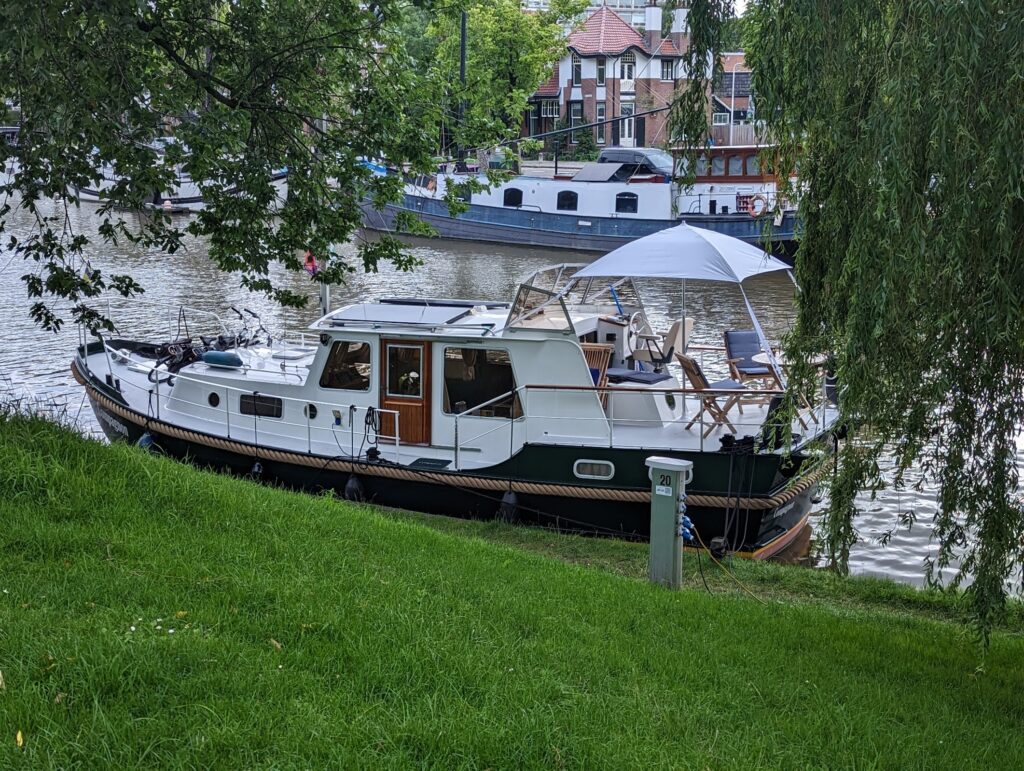 Leeuwarden is a larger city, it's a college town, and lots of people stop here on the way north or south. It's often hard to get a spot in town, but we did park under the willow right next to the showers. This city is the birthplace of Mata Hari (a Dutch exotic dancer and World War 1 spy) as well as M.C. Escher (you've seen his up/down black and white staircases). There's a large Friesland Museum, lots of good restaurants, and a lot of walking to be had. We stayed for a couple of days, then headed for Dokkum.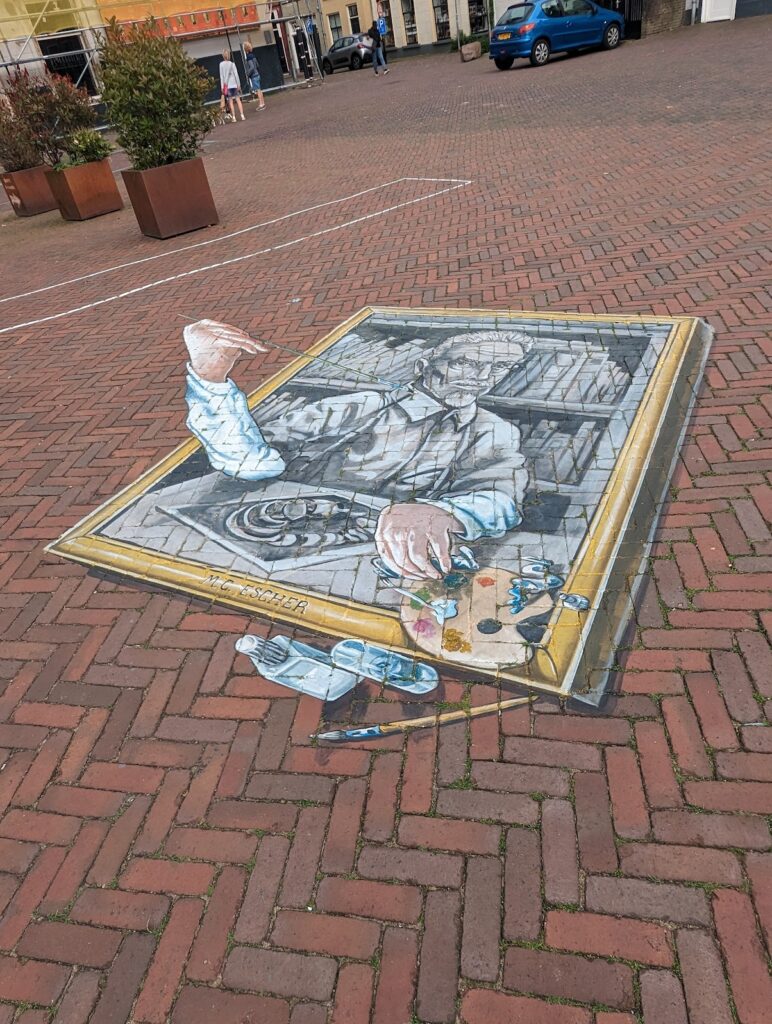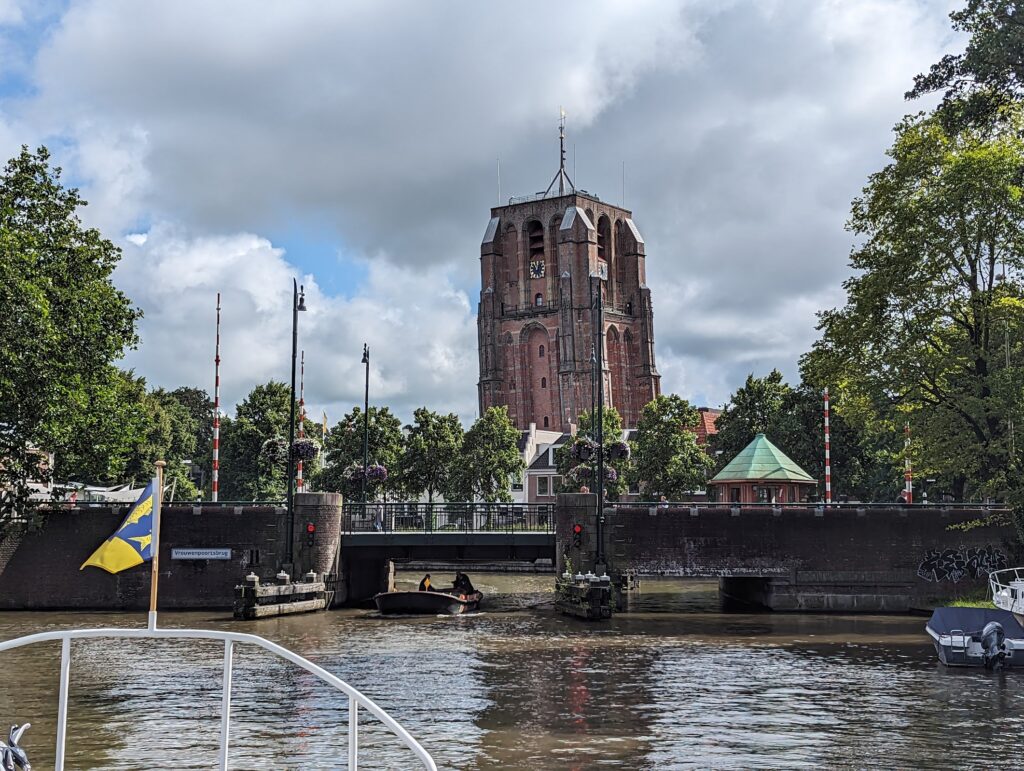 Not an Austin Texas Raft Up
When I lived in Austin, a group of us used to go out to the lake on Friday evenings and raft up, often to the largest boat with the largest anchor (Rob and Lynn). We'd spend the weekend in a cove, walking across each others boats, eating breakfast tacos in the morning, and spending the days floating in the lake. Rafting up is the same, but different in Friesland.
We left Leeuwarden for Dokkum. We were in touch with Jos and Anja (see previous blog post) and they were already in Dokkum. Jos texted me to just get there and we could raft up to their boat and not worry about finding a spot. They were in a beautiful location between 2 windmills. So, that's what we did, and it was awesome and we didn't want to ever leave.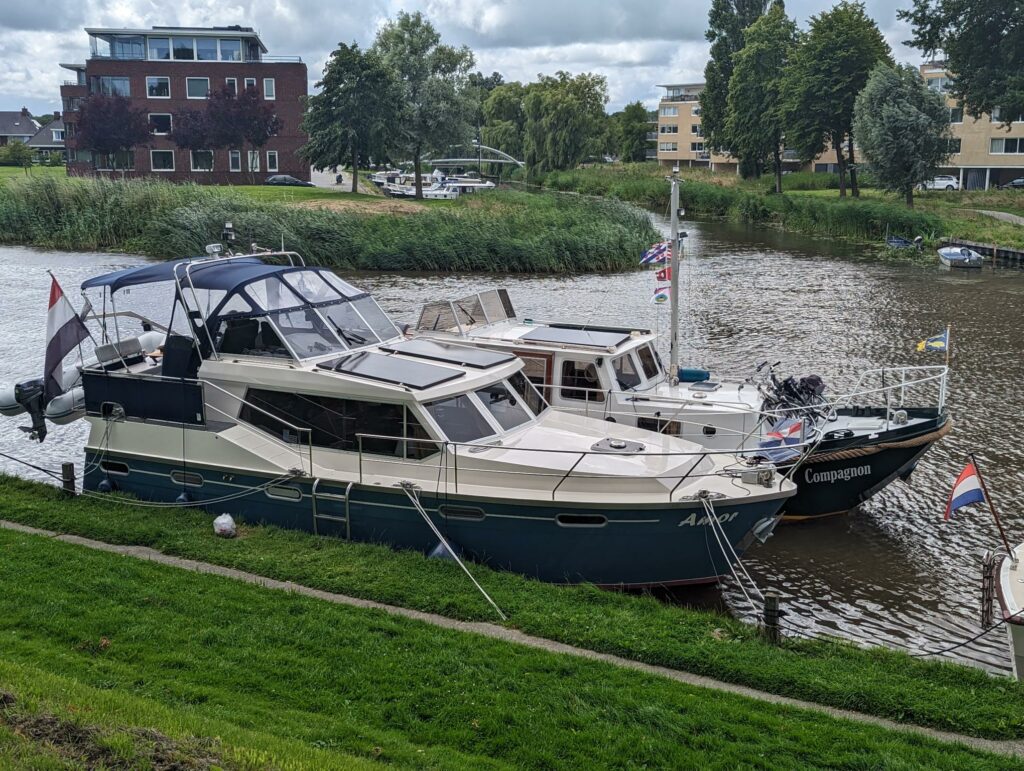 Jos and David have a lot in common… and they talk and talk and talk about boats. Jos, like a lot of Dutch people, has been around boats his entire life and really knows boats. It took Anja and I a little time, but we learned we could communicate using Google Translate. It's slow, but we learned a little bit about each other. I promised Anja next year I would know some more Dutch and maybe we could talk a bit more freely… I keep hearing Dutch is hard to learn, but after a month of doing Duolingo, I can say "my cow does not read the newspaper". If you've used Duolingo, you understand what I just wrote.
It was a Cold and Rainy Day…
David and I decided that David would cook the Dutch national dish for Jos and Anja, and we'd have it on their boat. OK, David didn't decide that… I decided that David would cook for them, because David is a chef and it was one of those days. We walked to the store in the never-ending rain and bought the ingredients for "snert" (split pea soup). We had our first dinner with our new friends, and they got a real kick out of the fact that we were Americans who made a winter dinner in the summer, and brought their national dish over for dinner. (And yes, we got more Kyra snuggles in, because who wouldn't want as many Westie snuggles as you can get?)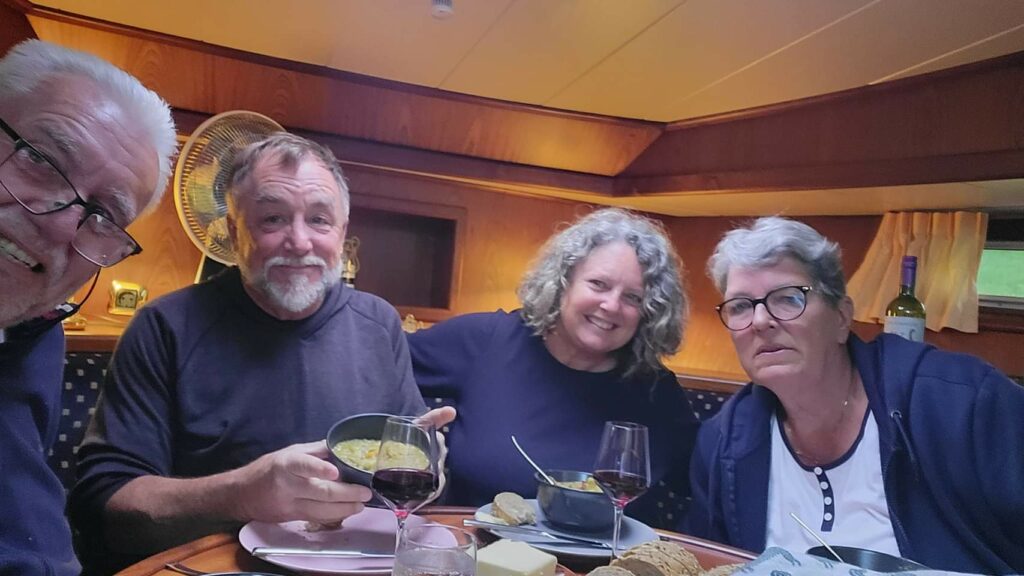 More About Dokkum
Dokkum is a beautiful city, just a few short km south of the North Sea. It's way up there in the Netherlands. More than 12k people live there, and it's best known event ever in the history of Dokkum is when Saint Boniface was martyred there in 754. Oh, and the 5th crusade kind of started there too. The city has been a city since 1298, and it's one of the 11 cities (so it has a fountain). It's also the turnaround for the Elfstedentocht (the big ice skating marathon).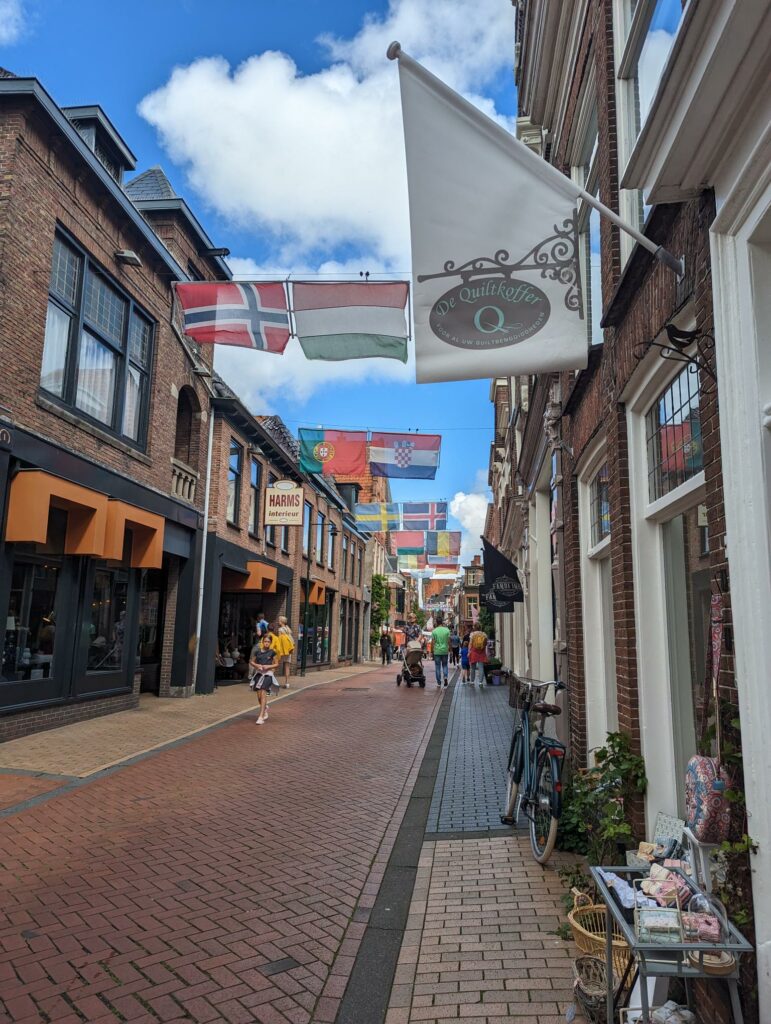 The fountain in Dokkum is called "The Ice Fountain", and this fountain really starts to take it's beautiful shape in the winter when the ice starts forming on it and it turns white. The different components are laid out in a Fibonacci Spiral, which is a naturally occurring spiral in nature (seeds, leaves, flowers, conch shells, etc… everywhere you look).
More about the fountain here: https://www.friesland.nl/en/locations/3982033357/11fountains-dokkum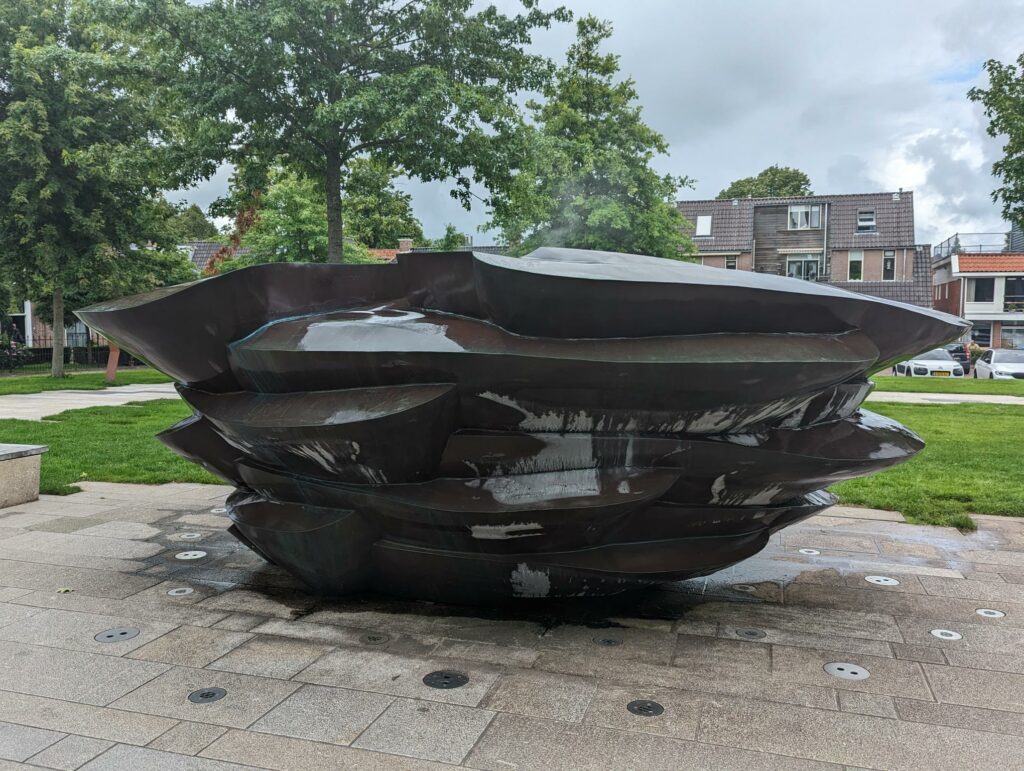 Dokkum… definitely worth going to, and if you are big a shopper, it's the 5th most shopped city in Friesland!