compagnon  (plural compagnons, feminine compagne)
from Old French compaignon, lifelong partner, significant other
Anyone that knows David and me knows that we enjoy spending time in Europe. There are many reasons for this I don't need to go into here, but if you know us, you probably already know why. We've always thought we'd eventually own a canal boat over there, but figured it was years off. There's just so much upheaval a life can handle, right? HAHA. When the opportunity bites you in the ankle…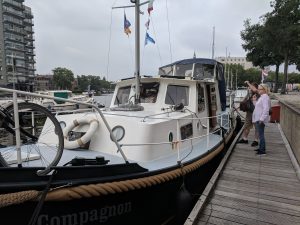 We visited with our friends Robin and Mike on their canal boat "Compagnon" in 2018 and 2019. We spent our time in Friesland, which is a province located in the northern part of the Netherlands. This province has about 700,000 people in a 2200 square mile area, so there's not a lot of people. I think there are 2 cows to every person there. Friesland is a beautiful area, with a rich history. The people there speak Frisian (most also speak Dutch and English). The Frisian language is most closely related to the various dialects of Old English. Much of Friesland was Roman occupied (like the rest of Europe), so it has a very rich history.
When we first canal boated in 2018, I remember telling David I was concerned that I would get bored, it's so slow, what are we going to do, etc etc (typical Kim worrying). Turns out, it's amazingly calming, beautiful, and not boring to be slow. Much of Europe is covered in canals and rivers, so you can just go to the next town, grab a bollard and tie up, and hop off the boat and wander around the town you are in. It's a beautiful way to see Europe, especially smaller towns you would probably never go visit by car (and especially as an American, you probably would never visit by car). Friesland is also a very boaty culture, with a vast history of maritime ventures. The boats are completely different than anything we have here in America, and we gawk regularly at boats we see.
Over the last few years, since 2018, David and I would occasionally joke with Robin and Mike about "selling us half interest" in the boat or "when you go to sell her we want her." She's a great boat… she's got a cabin forward with a closing door, a cabin aft with a closing door, a raised salon over the engine, a small galley (big enough to cook in), and a huge head with a shower. She's a 1974 Marek Dutch steel boat, and let me tell you the Dutch know how to build indestructible boats. I heard a few times from other canal cruisers that you "buy a boat in Netherlands and cruise it to France and sell it." Apparently the French love Dutch boats!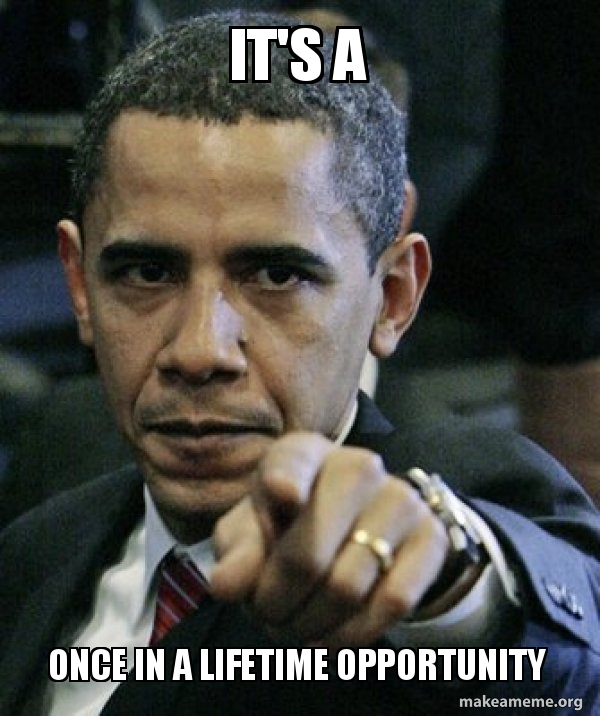 Fast forward to end of May 2022, and we have already scheduled a trip around a wedding on Cape Cod. We were planning on flying into Boston, and driving to Vermont to see Sabrina, up into Montreal, over to Quebec, down to Gloucester to see Mike and Amanda, and then to the wedding. We were taking advantage of all the Fairmont retirement benefits we could, including staying in the Chateau Frontenac in Quebec City. One early morning, we get a message from the Netherlands… it's Robin, and she's letting us know that they've decided to sell the boat, and if they list it with a broker it will be $10k higher than if they just sell it outright. "Do you know anyone that wants the boat?" HAHAHA seriously, that's what she asked us! We knew that they'd just replaced the engine with a 2021 Nanni Diesel, and they'd barely broken the engine in (~50 hours). There we were, laying in bed, talking about buying Compagnon. It took us about 10 minutes of discussion, and we messaged back that we would buy her.
I just want to remind you that we intended to do this all along, but not this soon. We always thought we'd have a boat in Europe, but it was "not now".
Within a week, we'd changed all our plans in New England, bought our plane tickets to go to Amsterdam and we started the process of buying this boat (which David is fond of saying, "it's less than the cost of a new Toyota Camry!").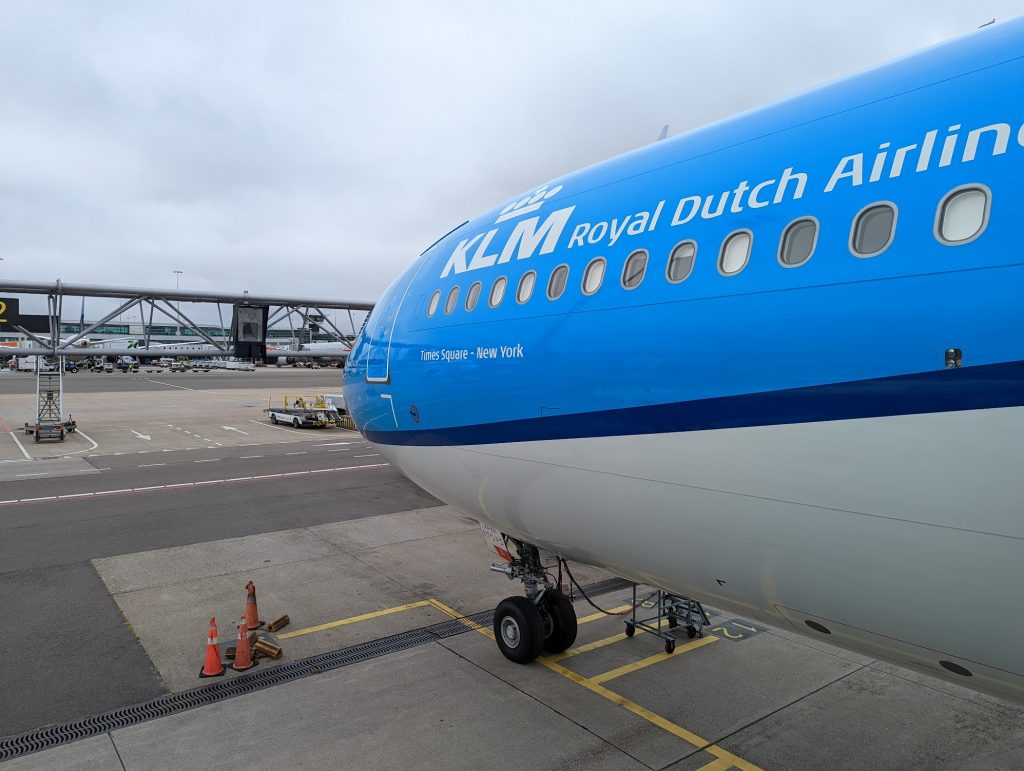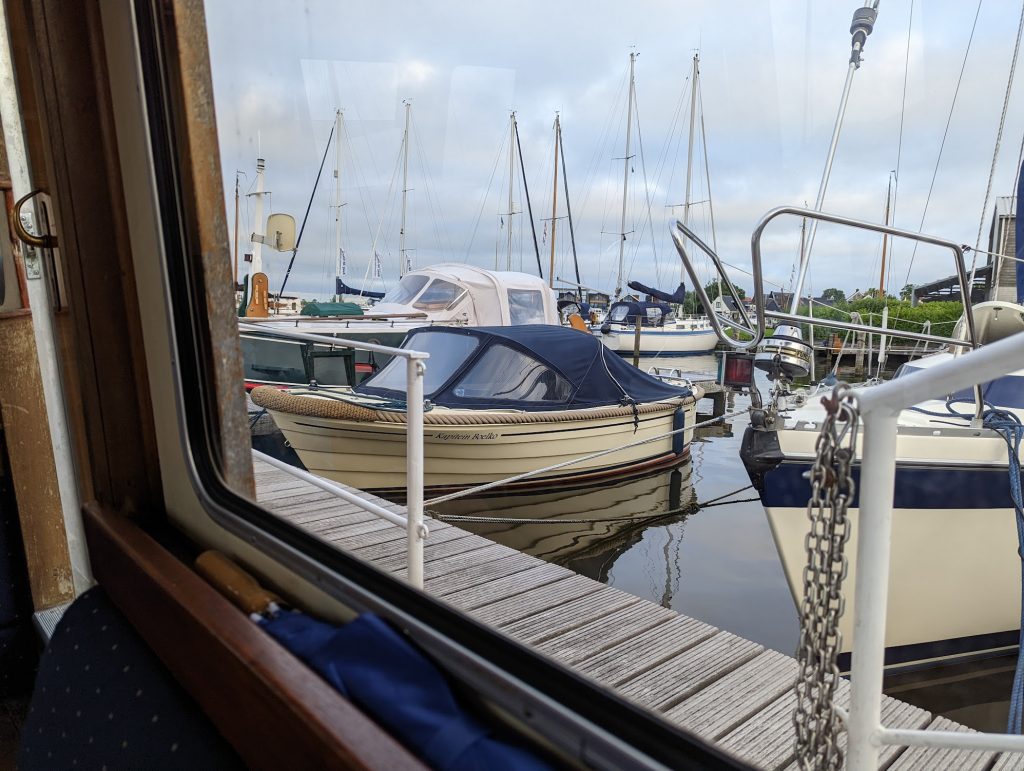 We flew an overnight flight from Boston to Amsterdam (only 6.5 hours versus 10.5 from SFO). I made a friend with one of the flight attendants, and we are still in touch to this day! We arrived in Amsterdam Schiphol at 9am. The boat is in Grou in Friesland, which requires us to get train tickets to Zwolle, switch to a smaller train, and get off in Grou. To get to the boat, we either have to walk a couple miles (we are exhausted), or somehow get in touch with the lone taxi driver in Grou. I take a shot in the dark and add him to my WhatsApp and text him… and he texts me back. He says he will meet us, thankfully, and just like clockwork, Atiq picks us up and takes us to Technische Scheepsservice Bert de Jong (this is a fancy name for Bert de Jong's boatyard, and just like that we are moving onto our new European boat.
After a quick nap, we realize that Bert's shipyard is not close to town (about 25 minute walk), so we walk to town and grab dinner… that first day is a killer when you travel to Europe. You have to stay up until 9p to adjust quickly, so you drink a glass of wine then a cup of coffee… then a glass of wine then a cup of coffee… then a glass of wine… you get the point.
This is where things get a little squirrely. First off, Compagnon has been stored outside during the winters for the last couple of Covid winters, and the tarp blew off of her last winter due to some big winds. Bert tells us the next day we can't store her at his yard anymore and that he doesn't have room. Ummmmm…. well, here we are in a place we don't speak the language with a boat we thought would be staying at Bert's, and ummm… now what? Also, she needs a little bit more cosmetic work since the last time we saw her due to her being stored outside. That's totally OK, it's the nature of the beast, and it's only cosmetic. Plus, we got this boat for bargain as far as we are concerned.
The next day, we decide to finally take her off the dock and go into the lake outside of Grou and get to "feel" her. Our plan was to go to Grou's marina that afternoon, which meant we had to take her into a slip. David unties us from the dock, and I'm on the upper steering station. She feels mushy, not like I would expect a motor boat to feel. The wheel doesn't stop when you go all the way over, it just keeps going around and around and around. The rudder angle indicator is not connected, so we can't even tell where the rudder is. I hand the wheel over to David, and he realizes it doesn't feel right either. We call Bert, and he has no idea. So, we decide to take her back to the end tie at Bert's and sort out what we are going to do. Thankfully she has a new bow thruster, which helped us get her back onto the dock without hitting anything, but it was nerve-wracking there for a couple minutes.
It's all about the hydraulic steering on the upper station.
We don't know that at the time though. We were totally bummed out. Bert, who knows nothing about us, tells us that perhaps we should come back and charter next year and figure out if we really want to do this. But, it had nothing to do with knowing whether or not we wanted to do this, we weren't sure what to do with what we had, and how we were going to get it fixed in a different country that spoke a different language than we do. Bert calls a broker in town, and recommends to us we sell her. So, we talk to the broker and list her with him, and decide to stay on her another 5 days until we figure out our next steps. I'm certainly not going to let our European vacation go to waste, so we start planning on a trip to Utrecht (this will be another blog post).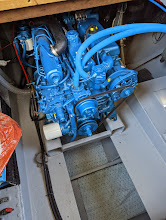 In the meantime, both of us continue to feel a nagging feeling in the back of our minds…
"But the engine only has 54 hours on it, we'll never have to replace it."
"The bow thruster is in excellent shape, almost new even, and we don't have to do anything with it."
"Cosmetics, not a big deal, we can deal with that."
And the big one was finally when we walked the docks in Grou and ran into another American couple who'd been cruising there for 25 years, and we "toured" their boat. Their guest area was the couch folding down into a slightly larger "bed". We both spend time looking at YachtFocus.com (their version of YachtWorld), and realize that we have a very unique boat with the forward and aft cabin arrangement. We know we have a ton of family and friends who we want to come do this with us. And finally, the ENGINE… every single boat we looked at was going to need a new engine, and I knew what Robin and Mike had paid for this engine.
Compagnon has good bones, and a great heart. Finally, we took her off of Bert's dock again using the lower steering station, and she did exactly what we expected her to do. It was a simple hydraulic problem, and not very difficult or expensive to fix.
So we delisted her and decided to keep her.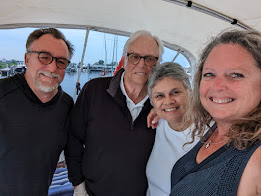 Everything went great after that. We left Bert's, and motored over to the Grou Marina. We pulled her into a slip. Unfortunately, we were running out of time, so we just sat put. And the storage issue as well as the question of who was going to work on her was also resolved in that time we were sitting put. We met our new friends Myrna and Jim, who are Americans who have also been cruising in Europe for many years. They originally knew our friends Sylvia and Michael (Dustin's parents) from cruising in Mexico on a sailboat. Myrna had told us about Jan Smid in Jirnsum (the tiny town over), and they had been storing ("winterstalling") there for many years. They just pull the boat up to the dock, grab their stuff, tell Jan what needs to be worked on, and he winterizes the boat and stores it inside for a couple hundred more than she was stored for at Bert's. Extra added bonus is that we don't have to do any of the winterizing, other than laundry and that kind of thing.
All in all, it was a bit of a crazy vacation, and we flip-flopped twice on a boat we both really love. But, we are both very happy with the way it all turned out and can't wait to go back to Netherlands next year for THREE WHOLE MONTHS. We both can work from there part-time (instead of "Coffee and Stretch" at 7aPST, David does "Wine and Stretch" at 4p), and I can run my business from anywhere. Most of all, we are thrilled that we achieved a goal we had, albeit a little earlier than we intended, and we are super excited to be able to host our friends and family in a place that (I'm betting) they've never been before. With the list we've given Jan, she's going to look like a different boat when we see her again… and we cannot wait. I've already started looking for flights!
Finally, what we're doing is not hard. We just decided to do it.
We've made a few life decisions to live cheaply.
We live on a beautiful 40′ sailboat, we both drive used (and owned) cars and have for a long time, and we bought a boat in Europe for less than the price of a Toyota Camry.
The experiences David and I are having together are priceless though, and I feel richer than rich that we are partners and this is the way we have chosen to live our lives.
Not to get philosophical here, but you just have no idea how long you are going to live, so if you can live your dream now, it's time to get on the road and get it done. Now. You could be dead tomorrow.
Or as my favorite uncle says,
"If not now, when?"
(You can check out my uncle Pat and aunt Diana and their travels round the world by motorcycle here.)